VENUES
The 2019 conference will be held on the campus of UC Irvine. Most conference panels and the keynotes will be at the Conference Center , with additional events taking place in nearby venues on campus.
Shuttle buses will be available to ferry conference participants from the hotel to the campus in the morning and back in the evening. The campus dropoff/pickup point is H on the map below.  The schedule is:
Mornings (to campus): Every half hour, 7:00 to 11:30 a.m.
Thursday evening (to hotel): Every half hour, 5:30 to 10:00 p.m. 
Friday/Saturday evening (to hotel): Every half hour, 7:00 to 11:30 p.m.
At other times you are on your own, but cabs, Lyft, and Uber are all available locally.
For those driving to campus, there will be reserved parking spaces in the parking structure directly across the street from the Conference Center, in the building P (SCPS) on the detail map below.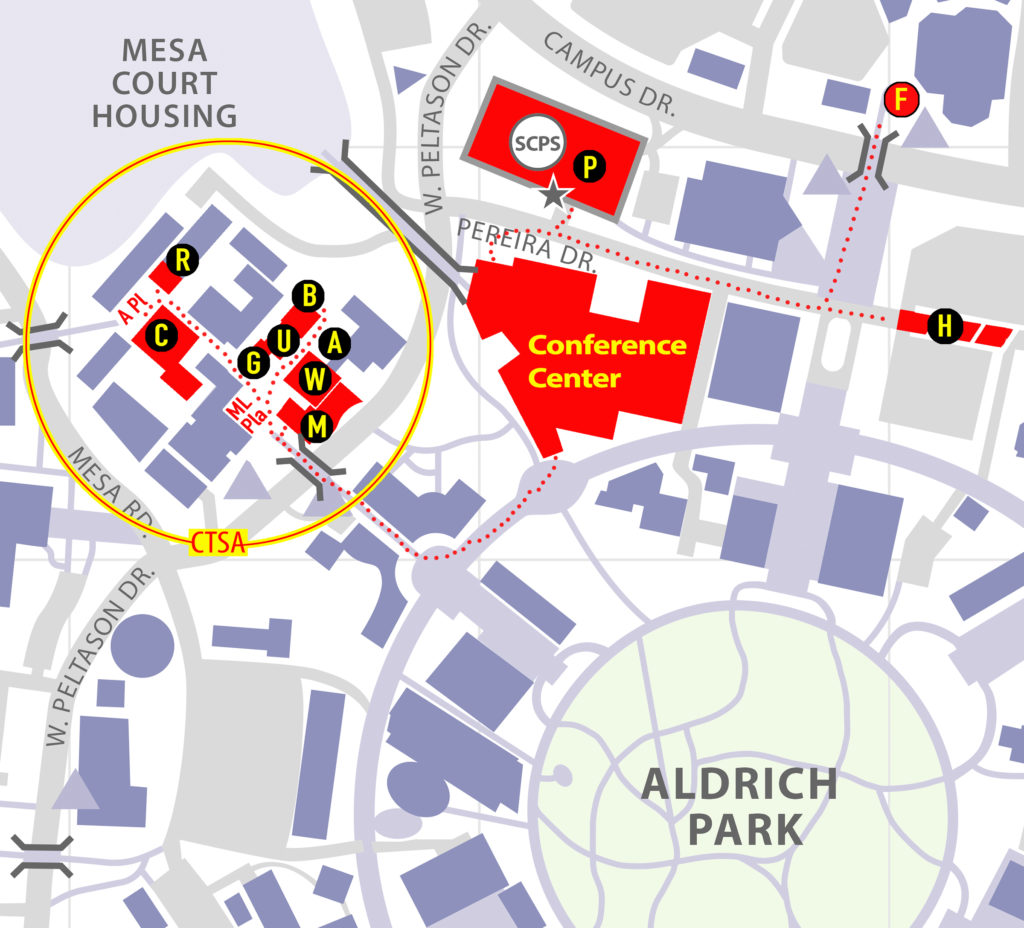 Many special events will take place with the the yellow CTSA circle. For details see the Special Events page.
Hotels
A limited number of rooms are available at reduced rates at the Atrium Hotel in Irvine, across the street from the John Wayne Airport (SNA) and about 2 miles from the UC Irvine campus. To reserve a room for SLSA 2019, please call 1-800-854-3012 and reference  SLSA 2019 CONFERENCE.
Travel tip: flying
The closest airport to UC Irvine is John Wayne Airport (SNA) in Santa Ana, which is right across the street from the conference hotel. Many major airlines fly into SNA from all over the United States.
Alternative airports are Long Beach Airport (LGB), which is much smaller as well as 25 miles north of UC Irvine, and Los Angeles International Airport (LAX), which is 45 miles north of UC Irvine. Unless you are renting a car, transportation from either LAX or LGB will be expensive ($75 – $150 for Lyft, Uber, cab) as there is no straightforward public transportation route.
Land Acknowledgment
This conference and the UCI campus are located on the homelands of the Acjachemen and Tongva peoples. Read more about some of UCI's efforts towards indigenous community engagement here.