New Book: Beyond Critique
From Roger Rothman: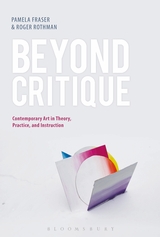 I'd like to let you know about the publication of my new book co-edited with Pamela Fraser of the University of Vermont: BEYOND CRITIQUE: Contemporary Art in Theory, Practice, and Instruction (Bloomsbury 2017).
Critique has long been a central concept within art practice and theory. Since the emergence of Conceptual Art, artists have been expected by critics, curators, and art school faculty to focus their work on exposing and debunking ideologies of power and domination. Recently, however, the effectiveness of cultural critique has come into question. The appearance of concepts such as the "speculative," the "reparative," and the "constructive" suggests an emerging postcritical paradigm.
Beyond Critique takes stock of the current discourse around this issue. With some calling for a renewed criticality and others rejecting the model entirely, the book's contributors explore a variety of new and recently reclaimed criteria for contemporary art and its pedagogy. Some propose turning toward affect and affirmation; others seek to reclaim such allegedly discredited concepts as intimacy, tenderness, and spirituality. With contributions from artists, critics, curators and historians, this book provides new ways of thinking about the historical role of critique while also exploring a wide range of alternative methods and aspirations. Beyond Critique will be a crucial tool for students and instructors who are seeking to think and work beyond the critical.
REVIEWS
"Beyond Critique represents new scholarship that addresses the thesis that critical theory, or 'critique,' has become a master narrative, is complicit in its domination of aesthetic discourses, and is deserving of critical analysis. A much-needed, wide-ranging, intellectually informative discussion, the volume provides alternative approaches to thinking about art in history, theory, practice, and instruction."
–Kristine Stiles, France Family Professor of Art, Art History & Visual Studies, Duke University, USA
"Navigating through postmodern pluralisms, neoliberal coercions of institutional critique, socially exclusive networks and market ideologies, this collection provides concrete analyses not only of the academic, ethical, socioeconomic and geopolitical obstacles that lay claim to the illusory capacities of critique in contemporary art, but alternatives for an art that is overwhelmed at its own upheaval of visible organization. Beyond Critique welcomes the reader into empirical approaches to past projects (such as Coco Fusco's 'Thoughts on "Two Undiscovered Amerindians," 20 Years Later'), and utilizes some of the most prominent thinkers of the 21st century to negotiate and reformulate the dissipation of critique today."
–Anton Vidokle, artist and director of e-flux
"Articulating an urgent and formidable challenge to the institutionalized authority of suspicious and symptomatic reading, Beyond Critique offers compelling arguments for a more inclusive range of affective styles and modes of post-critical interpretation. As a timely follow-up to Rita Felski's The Limits of Critique, this text is sure to further the long-awaited critical turn within the field of interpretation while impacting our awareness of contemporary critical analysis both inside and outside of the academy."
–Michelle Grabner, Crown Family Professor of Painting and Drawing, School of the Art Institute of Chicago, USA
"Critique enjoys an unassailable position atop the academic hierarchy, whether in the visual, performing, musical arts, or the academic systems used to make sense of them. Beyond Critique: Contemporary Art in Theory, Practice, and Instruction explores in groundbreaking fashion critique's habitually neglected other side in the transformative experiences that make culture a fundamental human experience and right. In this particular political moment, when political systems and aesthetic systems seem to be simultaneously imploding under the weight of unbridled critique, Beyond Critique offers a compelling and wide-ranging collection of models for thinking through the dialectics of art and politics today."
–Hannah Higgins, Professor of Art History, University of Illinois at Chicago, USA, and author of Fluxus Experience and The Grid Book
CONTENTS
 
Part 1: History and Theory
1. An Allegory of Criticism
    David Joselit (CUNY Graduate Center)
2. Fluxus and the Art of Affirmation
    Roger Rothman (Bucknell University)
3. Defining Criticality as an Historical Object of the 1970s and 1980s
    AnneMarie Perl (Princeton University)
4. "The people were smart and hungry": Criticality, Egalitarianism, and the Pictures Generation
    Anthony E. Grudin (University of Vermont)
5. Shiny Things
    Paul Preissner (University of Illinois at Chicago)
Part 2: Practice
 
6. Still in the Cage: Thoughts on "Two Undiscovered Amerindians," 20 Years Later
    Coco Fusco (independent artist)
7. Parasitism and Contemporary Art
    Adrian Anagnost (Tulane University)
8. Time, Autonomy and Criticality in Socially Engaged Art
    Grant Kester (University of California at San Diego)
9. Radical Proximity
    Sofia Leiby (independent artist)
10. Post-Critical Painting
      Andreas Fischer (Illinois State University)
11. Intimate Bureaucracies: A [Sweetened and Condensed] Manifesto
      dj readies [Craig Saper] (University of Maryland, Baltimore County)
Part 3: Instruction
 
12. On Performing the Critical
      Billie Lee (University of Hawaii at Manoa)
13. Consideration As an Antidote to Critique
      Karen Schiff (Rhode island School of Design and Boston Architectural College)
14. Re-Thinking Art Education (Revisited), or How I Learned to Love Art Schools Again
      Jen Delos Reyes (University of Illinois at Chicago)
15. Pragmatics of Studio Critique
      Judith Leeman (Massachusetts College of Art and Design)
16. Will the Circle Be Unbroken? Gift, Circulation, and Community Building in the Studio Art Crit.
      Shona Macdonald (University of Massachusetts Amherst)